NME Magazine Subscription
Subscribe now and save up to 42%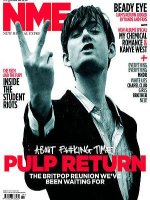 12 issues from £18.74
51 issues from £77.99
NME Magazine
Famous for its industry leading music news and world exclusives, NME Magazine is the most respected music weekly in the world. It reaches over one million music fans every week. NME has the best access to your favourite bands and features the world's greatest music writers and photographers.
If you want to learn about the best new music before anyone else, order your NME subscription today. You'll be the first to read about the latest releases, best new bands, award-winning features and all the single, album and live music reviews.
With your NME Magazine Subscription you will save a huge amount on the regular cover price and get free delivery direct to your door before everyone else. Don't miss out, order your subscription now!
In Recent Issues of NME
Discover the 100 greatest albums you've never heard – 100 lost albums chosen and reviewed by top musicians like Dave Grohl, Bjork, Kasabian, Bobby Gillespie, MGMT and Kurt Cobain… Liam Gallagher reveals all about Beady Eye's upcoming debut album, discusses his Christmas plans and explains why he's backing the student protesters… Exclusive news on Glasvegas' big comeback… NME Magazine looks at the last days of John Lennon… Frank Turners tells NME about going to school with Prince William… Paul Weller reveals why "this generation needs to stand up and fight"… The return of Pulp – the Britpop reunion we've all been waiting for. Order your NME Subscription today and you'll be reading great stories like this and much more every week.
Who Reads NME Magazine?
With a predominantly male audience and an average age of 23 (many of whom are students), NME magazine readers are completely obsessed by music. The editorial in NME keeps readers up to date with new music and ensures they are a music authority among their friends.
Like this magazine? Why not leave a short review: