Now Magazine Subscription
Subscribe now and save up to 91%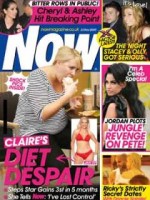 From £1.00 to £71.99
From 1 store
Compare
Issues
Save
Price
Subscribe
6
91%
£1.00
Subscribe Now
51
22%
£71.99
Subscribe now and get a £5 Amazon.co.uk Gift Card!
Join our newsletter for exclusive deals, voucher codes & more!
Now Magazine
Every week Now Magazine gives you the most exciting celebrity gossip, news and photographs. Now is the UK's celebrity, lifestyle and entertainment brand with pages of the latest fashions, styles, horoscopes and beauty tips. Want to know where celebrities get their clothes and accessories? Want to know where they hang out? Want to know about the latest celebrity scandals and news? Don't miss out – subscribe today!
In Recent Issues of Now Magazine
Tulisa – her only interview: "Kelly's still not talking to me"… X Factor Frankie – I'm the girl who broke his heart… TOWIE's Sam – I'll never recover from the attack… Celeb surgery special – bad Botox, pillow faces and lip horrors… Cheryl tells Ashley: "You've slept with her. It's over" – His new girlfriend tells us: "Ashley's mine"… Jen's baby bump mystery… Peter Andre confesses to Now Magazine: "Why I'm so scared to commit again"… The high street dress all the celebs are loving… Pippa & Harry – first real date. For more celeb gossip, news and more like this every week, order your Now Magazine subscription today!