Soaplife Magazine Subscription
Subscribe now and save up to 38%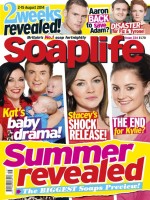 From £14.99 to £121.99
From 1 store
Soaplife Magazine
The one-stop fortnightly magazine for soap lovers, Soaplife gives you more news, pictures, gossip and stars from your favourite soaps than any other magazine. With every issue, Soaplife Magazine covers the latest plot updates and previews future storylines as well as giving an insight into your favourite soap stars' lives both on and off screen. Don't miss out – get your Soaplife subscription today!
In Recent Issues of Soaplife
All the latest from news and gossip from your favourite soaps, including:
Eastenders
Coronation Street
Emmerdale
Neighbours
Home & Away
Hollyoaks
Doctors
Plus there's loads more from the world of soaps in every issue of Soaplife, including updates from the British Soap Awards. Order your Soaplife subscription today and find out the latest before everyone else!