Your Family History Magazine Subscription
Subscribe now and save up to 17%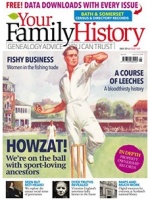 From £44.99 to £44.99
From 1 store
Your Family History Magazine
The most respected genealogy magazine around, Your Family History Magazine – previously know as Your Family Tree balances traditional means of family tree research with the use of PCs and the internet. It aims to make tracing family history rewarding and accessible for everyone. Your Family History offers practical advice on all aspects of family history research, and is written by experts.
With a Your Family History Subscription, every issue covers a wide array of old documents, answer varied reader questions and helps family historians to get in touch with one another. Each issue features a cover mounted CD-ROM for PC or Mac that contains a wide range of important genealogy resources in addition to a pull-out region research card, with key local resources, contacts, historical facts and a map. Four collectable surname index cards are also included with every issue of Your Family History Magazine.
In Your Family History you will learn how to get round restrictions when researching your recent family history, get the most out of marriage certificates, make a start with church records and parish registers dating back to the 16th century, and much more including where to find the best and most useful genealogy products online.
Order a subscription today for yourself or as a gift and start to discover a wealth of information on your family tree.
Recent Issues of Your Family History
Where did they go? Use immigration records to find ancestors who left Britain to start new lives abroad… Cops and robbers – interrogate police records to find your forebears on both sides of the law… The Great Plague – discover how your London ancestors survived the 17th century epidemic… Plus, how to use record offices online, how to read old documents and much more. Order a Your Family History subscription today.
In older issues… Genealogy for free – how to take your research further without paying a penny… Trace apprentices – find out if your ancestors were hired or fired… Find lost marriages – the best places to discover those elusive unions online. Plus a special magazine supplement on computing for family historians. Get your subscription to Your Family History magazine now.
Find our how to pass on your family's story via books, websites, videos and charts and ensure that your research findings are never forgotten. Discover how to find important information on your military ancestors and find migration records online. Subscribe to Your Family History now for interesting and important features every month.