Prima Magazine Subscription
Subscribe now and save up to 73%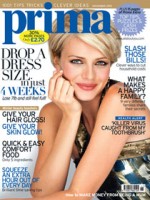 From £3.00 to £29.25
From 3 stores
Prima Magazine
Prima Magazine gives real life guidance, inspiration and ideas to simplify your life. There's something for everyone in Prima – advice on how to save time and money, look and feel your best, make quick and easy food, and keep a beautiful home and garden. Above all, everything you need to get the most out of life. Prima Magazine addresses the needs of everyday women covering issues relevant at all stages in your life, through real life experiences, inspiration and advice, and promotes a positive approach to life with a modern point of view. A Prima Subscription gives the added benefit of 10% discount in the Prima shop. So don't miss out – take charge and order your Prima Magazine Subscription today!
In Recent Issues of Prima Magazine
Slash your bills – save £700 a year – it couldn't be easier… Drop a dress size in just 4 weeks – that's 7lb!… Your hair problems solved by the experts – thicker, fuller, shinier… Tired all the time? Find out why and get your sparkle back… 1001 tips, tricks and clever ideas… 6 ways to improve your memory… 25 ways to get beautiful skin (even in winter!)… Delicious one pot wonders to save time and money… New looks for you and your home – Prima Magazine's pick of the very best on the high street… The 7 questions every woman should ask… Healthy fast food the family will love… Exclusive: "Our love helped us survive hostage nightmare", by pirate victim Rachel Chandler… What's your breast cancer risk? Take this test to find out… Special Prima pattern – make a dress inspired by Kate's! For more great features like this every month, order your Prima subscription today and have the magazine delivered to your door.