There are a few things to consider before buying a magazine subscription gift card and there's lots of choice. Here's what we'll cover on this page. Click on any of these headings to jump to that section:
Why Buy a Magazine Subscription Gift Voucher?
A magazine subscription makes a fantastic gift for the one you love. It's the gift that keeps on giving as the recipient will continue to receive a new issue of their favourite magazine every week or month.
If you already know which magazine your loved one will enjoy and want to gift a specific title, skip the vouchers and instead find their favourite magazine, compare prices and buy from where it's offered at the lowest price. Most stores offer the option to send the magazine subscription as a gift to a different address, and you can often choose when the subscription should begin. Just select these options at checkout.
However, if you're looking to treat someone but you're not sure which magazine they'll like, a magazine subscription gift card is the perfect option. Send your friend or relative a lovely gift card and let them choose their preferred magazine themselves. Vouchers can be sent via email, making them the perfect last minute gift!
We'll go through each of the magazine subscription gift voucher options that are available in the UK to help you make the best choice when deciding what to give. We'll highlight the magazines available with each option and any important terms that you should be aware of.
Best Magazine Gift Cards for Choice
To give your recipient the widest choice of print magazine subscriptions, send a gift voucher from either isubscribe or magazine.co.uk. These sites carry most UK magazines and their prices are competitive. As an alternative option for that friend who really loves to read, take a look at Readly in the digital subscription gift cards section below for their "All you can read" magazine gift cards.
With over 3,000 magazines to choose from and the option of sending the magazine subscription voucher by either email or post, isubscribe is our top choice. Another key advantage is that their gift vouchers can be used for either print or digital magazine subscriptions, so if you're not sure whether your relative or friend will want to read their magazine on a digital device (such as a phone, tablet or Kindle) or prefer to hold the magazine in their hands, this is the perfect option.
The buying process for sending gift cards by email is simple:
Choose the look of your gift card from over 25 designs covering birthdays, anniversaries and more.
Select the value of your gift voucher from £15 to £100.
Add a personalised message for the recipient.
Choose when you wish the voucher to be delivered and enter the recipient's email address. If you choose today's date, the voucher will be sent immediately following payment.
You can then preview the gift voucher to see exactly what the recipient will see before starting the checkout process.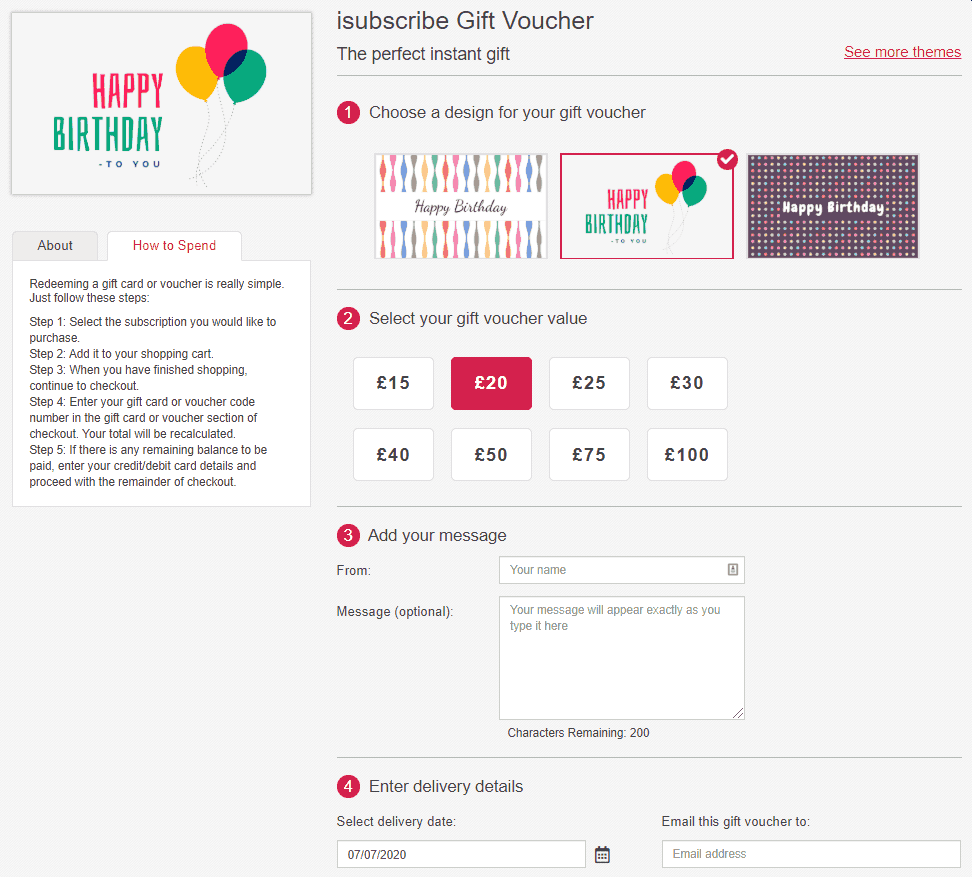 Fewer options are given when purchasing a physical gift card. Here you cannot choose the design but you can select the value (from £20), add a personalised message and have it delivered by post for free in a sleek gift card wallet. These physical gift cards can only be delivered to addresses in the UK but will be sent out via 1st class mail.
The most important terms and conditions for isubscribe's gift vouchers are as follows:
The vouchers cannot be redeemed against a subscription on a Direct Debit payment.
No change will be given if the full amount is not used, however the balance can be used against further purchases.
Gift vouchers are activated on the date of purchase and expire 12 months after this date.
Buy your isubscribe gift vouchers here.
Another great choice for magazine subscription gift cards, magazine.co.uk offers 100s of titles to choose from. Although this is fewer than isubscribe, you'll almost certainly find your favourite magazine here.
While the process for buying a gift card is simple, here there are only 9 different designs to choose from, though you can choose the exact value of the gift card you'd like to give.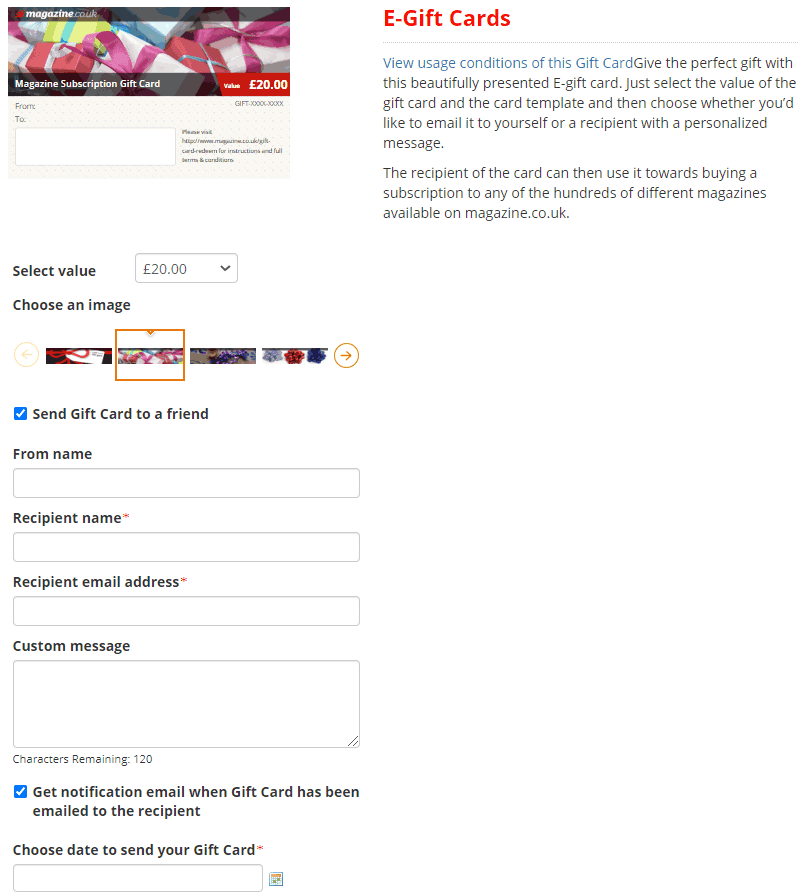 magazine.co.uk also does not offer physical gift cards, only e-gift cards. You will receive an email once the gift card has been sent to the recipient. The key terms & conditions are identical to those of isubscribe:
Vouchers cannot be redeemed against subscriptions on Direct Debit payments.
Change will not be given if the full amount is not used, however the balance can be used against further purchases.
Gift vouchers are activated on the date of purchase and expire 12 months after this date.
Buy your magazine.co.uk gift vouchers here.
Best Magazine Gift Cards for Digital Subscriptions
If you know that your friend or relative prefers to read their magazines on a digital device such as a tablet, phone or Kindle, choose a voucher from either Readly, Pocketmags, isubscribe or potentially Amazon.
The ultimate option for choice of digital magazines, Readly is a fantastic "all you can read" service that allows you to read as many magazines as you like, in full, every month. A regular subscription costs just £9.99 per month and gives you access to over 5000 magazines and newspapers, including both new and back issues. You can read them offline in the Readly tablet & smartphone app or on any device with a web browser, plus the subscription can be shared with your family on up to 5 different devices.
So why not give the gift of unlimited reading with a Readly gift card? The gift card can be sent via email or printed out to give in person and the recipient will save up to 20% on the regular subscription price.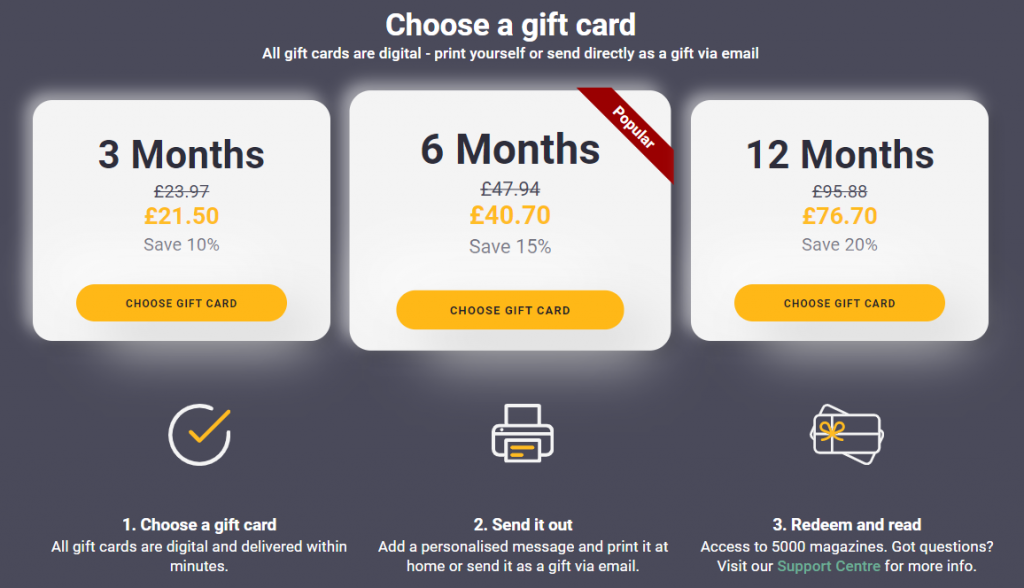 This is the perfect gift idea for that friend with multiple interests who likes to read different magazines each month. The Readly gift card is valid for redemption up to 1 year after the purchase date and the subscription only starts when redeemed. There's also no need to cancel at the end of the pre-paid period – the subscription will end automatically.
Buy your Readly gift vouchers here.
isubscribe's gift vouchers have already been discussed above, so we won't go into detail again here. They have the advantage that they can be used for either print OR digital magazine subscriptions and isubscribe also has the slickest and most user-friendly gift voucher service.
isubscribe lets you read digital magazines on iPad & iPhone, Android Devices or on any web browser (laptop, PC, Mac, etc), covering pretty much all bases.
Buy your isubscribe gift vouchers here.
Pocketmags allows you to read your digital magazine subscriptions on iPhone & iPad, Kindle Fire, Android Devices or in a web browser on any laptop, PC or Mac. With over 2,000 titles available and low prices, it's a great option for gifting a magazine subscription in digital format.
Again, the buying process is simple: choose a value, select a design (from up to 6 options depending on the value), then add the gift card to your basket and check out. During the checkout process you will be given the option of emailing the gift card directly to the recipient or choosing to send the voucher to your own email address from where you will be able to forward it on with a personalised message or print it out and hand it to the recipient in person.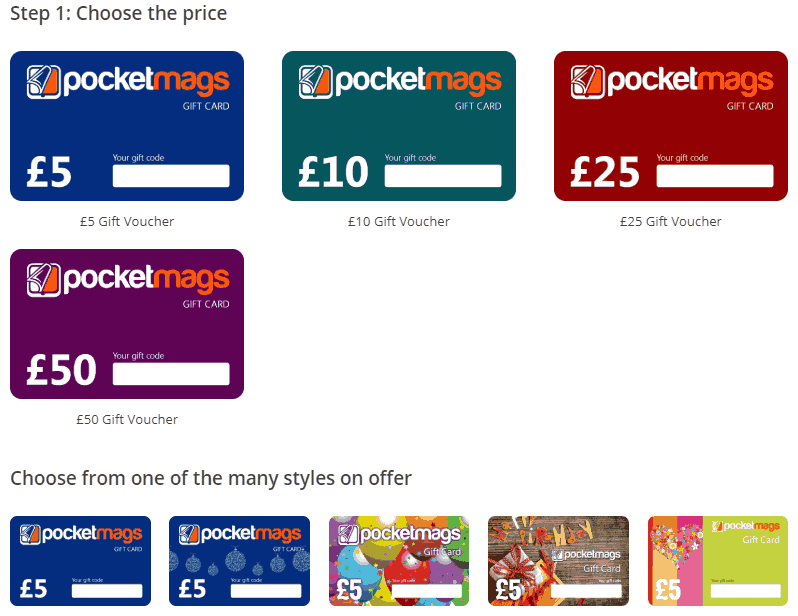 Gift card terms are pretty standard:
Change will not be given if the full amount is not used, but the remaining balance will be converted to Pocketmags points which can be used against further purchases (though note that these will expire after 18 months).
Gift vouchers are activated immediately upon purchase and expire 12 months after this date.
Buy your Pocketmags gift vouchers here.
It's worth covering Amazon here as they do offer a wide range of magazine subscriptions in digital format and have a simple to use and powerful gift voucher system with plenty of options.
Vouchers can be sent via email, post (in gift boxes or greeting cards) or printed at home.
However, note that if your intention is to specifically gift a magazine subscription, there is no way to specify that an Amazon voucher must be used for this purpose. Amazon vouchers can be spent on anything in the Amazon store.
Amazon has the most generous gift card terms of all, with gift vouchers being valid for 10 years from the date of purchase.
Buy your Amazon gift vouchers here.
Best Magazine Subscription Gift Cards from the Publishers
Buying a magazine subscription often works out the best value when you purchase from the publisher, though not always, and prices can vary depending on what offers are running. That's why we set up Cheap Subscriptions, so that you can always find where to buy your favourite magazines for the cheapest price.
Unfortunately very few publishers now have their own gift cards. If you know which magazine you want to gift, you can purchase the subscription as normal then select "Gift" as an option at checkout. You will usually be able to choose which issue the recipient will receive first, like in the example below from Magazines Direct: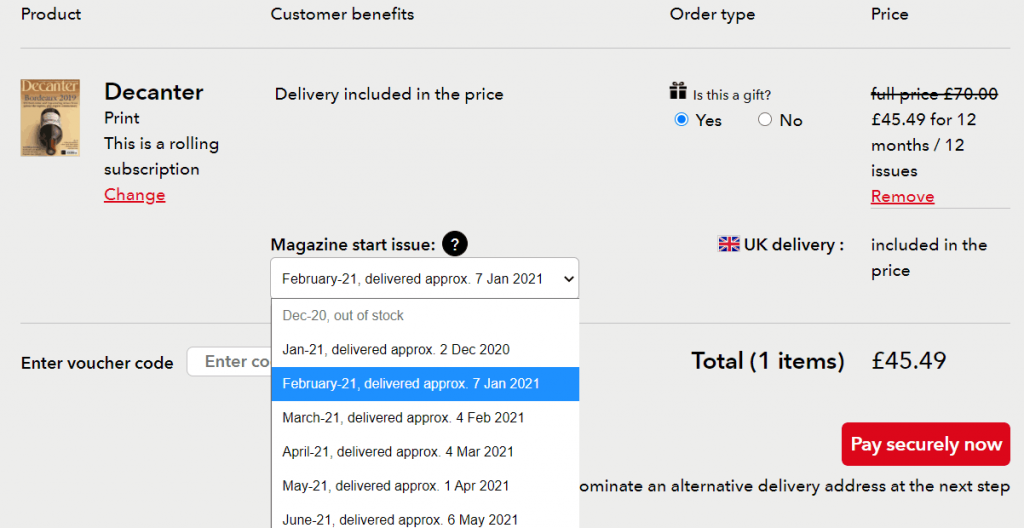 The only publisher that currently offers gift cards allowing the recipient to choose from a range of magazines is Bauer via their website Great Magazines.
As you are restricted to only the magazines that they publish, only use this option if you know that your recipient will find something they like, otherwise stick to one of the options already discussed above.
Although limited to the magazines that Bauer Media Group publish, there should be at least one or two magazines here to suit the recipient of your gift card. Bauer's titles cover lifestyle magazines like Yours, entertainment titles like Empire and Total TV Guide, gardening magazines like Garden News and motoring magazines like Motorcycle News, plus lots more.
Their magazine subscription gift card buying process is simple:
Buy your gift card for £24.99 (or £15.99 for a digital subscription gift card).
The gift voucher – which includes a generic greetings card – is sent to your address via post within 3-5 working days.
Write your own personal message and then give or send to the recipient.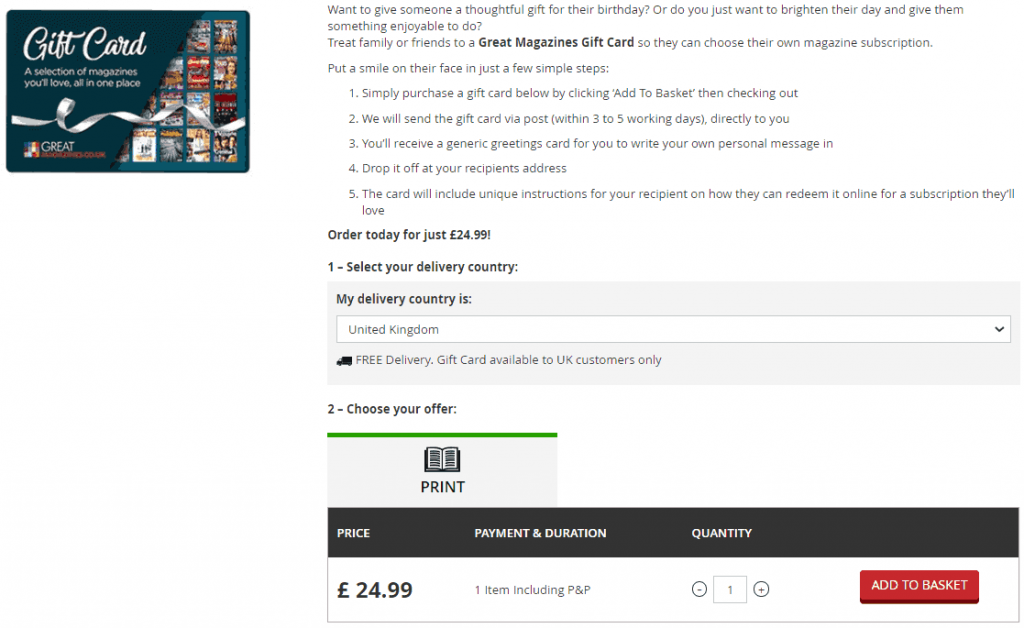 As above, this value doesn't go towards the price of a magazine subscription. Instead, the recipient uses their voucher code to purchase a specific number of issues of their magazine of choice. The magazines available and the number of issues that will be purchased are detailed at the bottom of the gift cards page, when you click "More Details":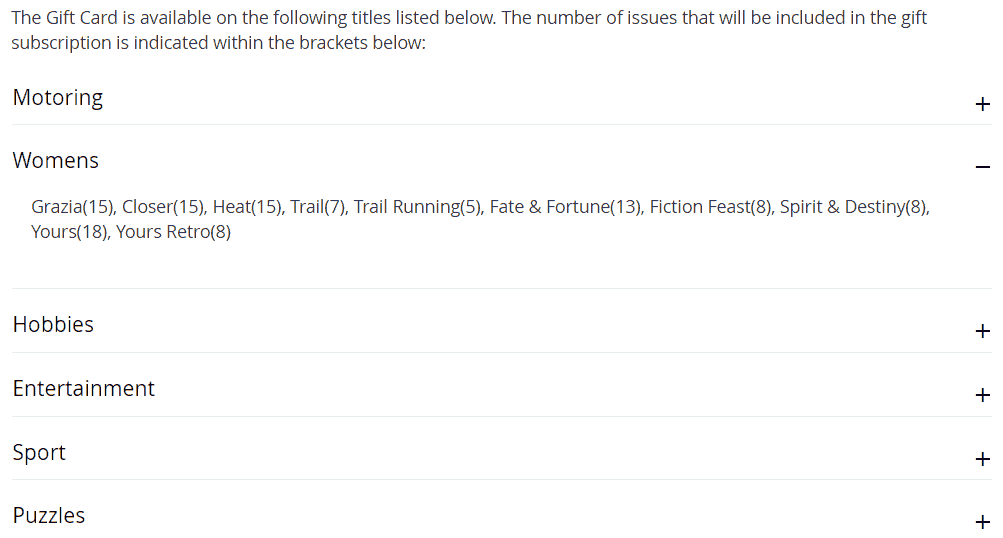 One example of notable value available here is for a Trail Magazine Subscription. With the Great Magazines Gift Card you pay £24.99 and will receive 7 issues of Trail Magazine. At the time of writing a 13 issue subscription to Trail costs £61.10 (though is often much less), which would equate to £32.90 for 7 issues.
Note that gift cards can only be sent to UK addresses and that the activation code will expire 12 months after purchase.
Buy your Great Magazines gift vouchers here.
One Final Option
If you have an idea of the type of magazine that your loved one will enjoy, WHSmith offers a small range of magazine subscription gift packs that offer the recipient a limited choice of magazines from which to choose.
For example, their Lifestyle Gift Pack can be used for a 12 months subscription to one of the following magazines: Good Housekeeping, Country Living, Red, Prima or House Beautiful. It should be noted however that each of these magazines can be purchased much cheaper elsewhere.
The Ultimate Choice Gift Pack offers a wider range of magazines, but these can all be purchased using the £10 cheaper Magazines Direct gift card listed above.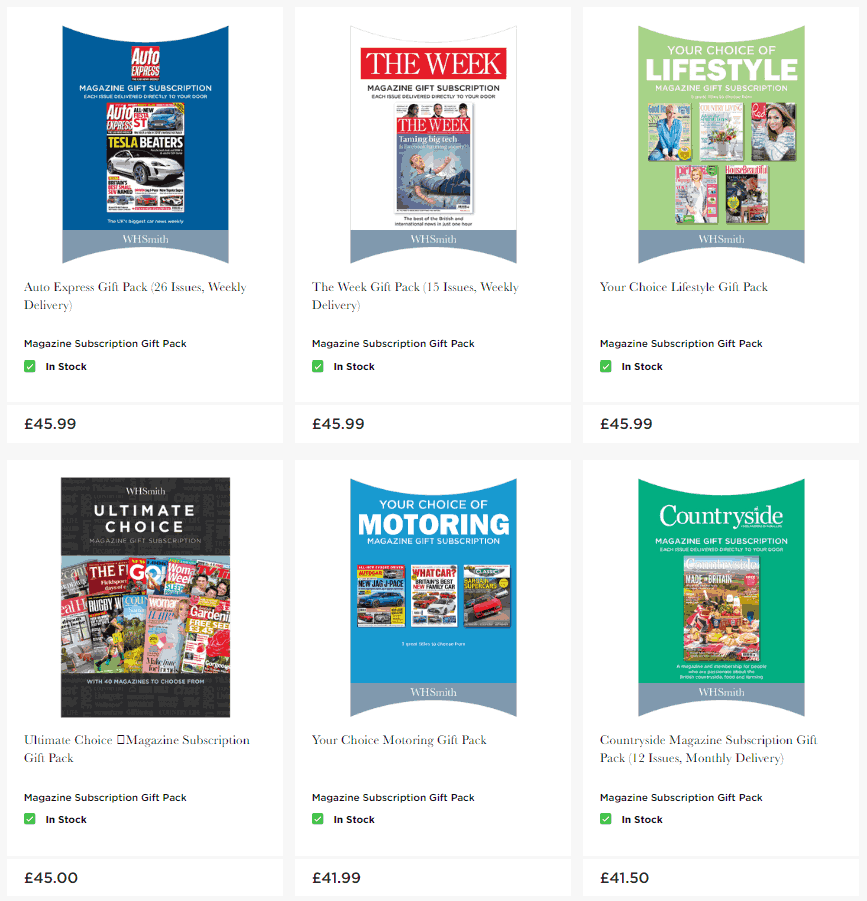 The buying process is simple. Select the pack you wish to purchase, then add to basket and check out. You'll get free delivery and will have the option of sending the pack to yourself or to someone else, or you can choose to collect the gift pack in your local WHSmith store.
Each magazine subscription gift pack must be used within 12 months of purchase. Note also that it may take up to 8 weeks for the delivery of your first issue.
Buy your WHSmith Magazine Subscription gift packs here.
Links
Here is a summary of the links to purchase each type of gift voucher: