Vanity Fair Magazine Subscription
Subscribe now and save up to 52%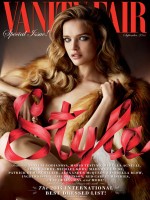 From £16.00 to £32.00
From 2 stores
Vanity Fair Magazine
Vanity Fair is the biography of our age, one month at a time. From entertainment to world affairs, business to style, design to society, it is a cultural catalyst, provoking and driving intelligent dialogue and debate.
With a unique mix of grit and glamour, Vanity Fair opens the doors to Hollywood, high finance, politics and culture, tracking the latest scandals, the greatest achievements and newest stars. Every issue of your Vanity Fair subscription will present fascinating stories and investigative articles combined with stunning photography and countered with a strong sense of humour. Subscribe today and ensure you never miss an issue. Plus you'll get free delivery to your door every month.
In Recent Issues of Vanity Fair Magazine
From "IT" girl to jailbird – Lindsay Lohan – what went wrong and how she can put it right… Facebook's secretive genius speaks out in a Vanity Fair exclusive… From Tony Soprano to Snooki – why New Jersey TV rules… Smears, lies and big speaking fees – inside Sarah Palin, Inc… Gaga for the Lady – Who is she? Why is she? And should you worry?… The 2010 international best-dressed list… The bitter battle over a fashion icon's estate… Dennis Hopper's last interview – a Vanity Fair Magazine exclusive… Farewell Angelina? Hollywood's most notorious beauty opens up about the kids, the break-up rumours, having more babies, Brad's beard and quitting acting… The con-man who held a noble family hostage – a tale of brainwashing, torture and greed… 50 top architects pick the greatest buildings of the last 30 years… Sex and the Saudis – Vanity Fair shakes up the sheikhs. For insightful and entertaining articles like this every month, order your Vanity Fair subscription now.
Who Reads Vanity Fair Magazine?
Vanity Fair is read by thousands of modern, sophisticated consumers, predominantly female with an average age of 34. Join them by subscribing today!