Decanter Magazine Subscription
Subscribe now and save up to 25%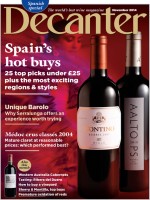 From £52.49 to £110.49
From 3 stores
Decanter Magazine
Decanter is the world leading authority on wine. Whether you want to read about wine, learn about celebrated wine makers or get recommendation's for the best new wines, Decanter Magazine will fulfil your needs. The magazine will guide you through the maze of wine to help you find the right one for you. It offers interviews with leading wine personalities, in-depth guides to the wine regions and the latest wine news from around the world.
Ensure you never miss an issue by ordering your Decanter subscription today. You'll save on the cover price and get free delivery to your door every month.
In Recent Issues of Decanter
Spain's hot buys: 25 top picks under £25, plus the most exciting regions and styles… Unique Barolo – why Serralunga offers an experience worth trying… Vintage Report: Western Australia Cabernets 2012 – the latest in a string of great vintages… Regional profile: Stags Leap District in California's Napa Valley… Premox: has the crisis moved to red wine?… How to buy a vineyard – the key to successfully making your own wine is in the planning… Argentina's new star reds – Malbec's naked beauty and the 'truly exceptional' Cabernet Franc… Cool-climate Chile – the 100 Pinot Noirs and Syrahs leading the charge. Order your Decanter Magazine subscription today for more fascinating features like this every month.
Who Reads Decanter Magazine?
Professionals with a passion for wine; mainly consumers but also people in the wine industry.