Delicious Magazine Subscription
Subscribe now and save up to 57%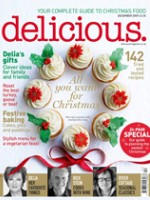 From £6.00 to £35.49
From 2 stores
Delicious Magazine
If you love food and are passionate about entertaining, delicious is the perfect choice. Every issue of delicious magazine is packed full of mouth watering recipes and great meal ideas from top celebrity chefs such as Nigella Lawson, Jamie Oliver and Rick Stein. Plus, articles on the latest health trends, travel ideas, a kids cookery series and much more.
Delicious Magazine is a total celebration of food, from roasting and frying to baking and casseroling. If you love food you will be totally inspired by Delicious. Food is one of life's great pleasures, so don't miss out – order your delicious subscription today!
In Recent Issues of Delicious Magazine
Cook now, relax later – clever ways to solve the midweek meal dilemma… Jamie Oliver's fast-track menu… The big night in – proper pub grub, plus a fantastic food lover's quiz… You can't beat a good curry – Madhur Jaffrey makes it easy… Fab new recipes, blenders reviewed, and seasonal magic… Rick Stein's best ever food for friends… Simple suppers – chicken gets a makeover… How to inspire teenagers – five recipes to get them cooking… The Delicious Magazine hotlist – new, easy vegetarian ideas, classic mains slimmed down and the one-hour menu. Buy your Delicious Magazine subscription for great articles like this and much more in every issue.
Who Reads Delicious Magazine?
The target audience of Delicious is women aged 25-55, but the magazine is enjoyed by men and women of all ages. Join them by ordering your Delicious subscription today!