FourFourTwo Magazine Subscription
Subscribe now and save up to 93%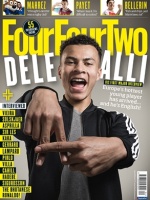 From £1.00 to £29.99
From 2 stores
FourFourTwo Magazine
FourFourTwo is the ultimate football magazine. Every month Four Four Two Magazine delivers the biggest names, the finest feature articles and the most respected football columnists who give their views on recent games and predictions for what's to come. It is the only magazine that really reflects the world of football in all its extremes, from drama to surprise, agony to ecstasy, intelligence to humour. If it's in the game it's in FourFourTwo Magazine.
Order your subscription now to ensure you have your copy delivered to your door every month. A 442 Subscription also works out much cheaper than buying from the newsagent each month.
In Recent Issue of FourFourTwo Magazine
The battle of Manchester – the inside story of a rivalry reignited by money, ambition and the title race… Aguero & Young exclusive – their first big interviews… Torres confesses all – Fernando on Liverpool, misfiring at Chelsea and being a keeper(?!)… Football's weirdest superstitions… Football's slave trade – homeless kids, broken families and con-men. A shocking Four Four Two magazine investigation… The new Liverpool – you ain't seen nothing yet… How Berlusconi changed football… Meet Millwall's hardest fan. For more great football features like this every month, order your subscription to FourFourTwo magazine now.