Homes & Gardens Magazine Subscription
Subscribe now and save up to 42%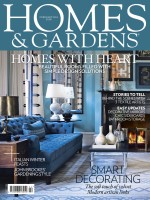 From £35.49 to £83.49
From 3 stores
Homes & Gardens Magazine
Launched in 1919, Homes & Gardens is the UK's oldest decorating magazine. Aspirational yet accessible, stylish, sophisticated and indulgent, Homes and Gardens Magazine showcases classic design that stands the test of time. Mixing beautiful features illustrating major decorating trends with gorgeous real-life homes, expert advice and practical information makes it the ultimate source of decorating inspiration for both the discerning consumer and the interior design trade.
Underpinning every aspect of Homes & Gardens is the quality and breadth of the information and advice given. Make sure you don't miss out by ordering your Homes & Gardens subscription today and the magazine will be delivered to your door for free every month.
In Recent Issues of Homes & Gardens
Homes with heart: Beautiful rooms filled with simple design solutions… Stories to tell: Behind the scenes with three textile artists… Easy updates: Decorative mirrors, chic sideboards and bathroom storage… Smart decorating: The soft touch of velvet and modern artisan looks… Made with love: Foodie treats to give as gifts… Stylish schemes: chic looks for entertaining… Bring the outside in: Creative ideas for winter greenery… Living the dream: Festive houses in London, Lyon and Connecticut… Order your Homes & Gardens Magazine subscription today for more fabulous articles like this every month.
Who Reads Homes and Gardens Magazine?
Homes & Gardens has a broad appeal from design conscious readers in their mid-thirties to sophisticated women in their forties and fifties. Many read the magazine for pleasure as well as using it as a business tool.