House & Garden Magazine Subscription
Subscribe now and save up to 42%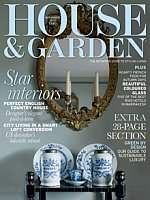 From £14.00 to £29.00
From 2 stores
House & Garden Magazine
The definitive guide to stylish living, House and Garden Magazine educates readers about good design in homes, gardens and the rest of their lives. House & Garden is the UK's most influential and glamorous design and decoration magazine.
Every issue of your subscription will provide a wealth of ideas to achieve stunning interiors, beautiful gardens, and a happy life. Great monthly features include tours of celebrity homes, worldwide travel, food & drink and much more, all backed up with gorgeous photography.
Order your House & Garden subscription now for great savings on the regular price, plus free delivery to your door every month. The magazine also makes a great gift.
In Recent Issues of House and Garden Magazine
Star interiors: The perfect English country house, a designer's elegant pied-a-terre, city living in a smart loft conversion, and a US decorator's lakeside retreat… Green by design – a 28 page House & Garden Magazine guide to sustainable luxury… A London house innovatively restored using reclaimed materials… Hearty French food for autumn days… Beautiful coloured glass… Five of the best Riad hotels in Marrakesh… The rare-book shop owner who has been restoring his arts and crafts country house in Norfolk for the last 12 years… How to perfect the art of lighting with a combination of both old and new fittings and limitless creativity. You will read more great features like this in every issue of your House and Garden Magazine subscription. Order yours today!