Lonely Planet Traveller Magazine Subscription
Subscribe now and save up to 43%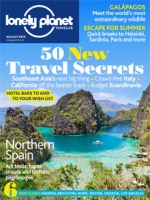 From £15.50 to £35.00
From 3 stores
Lonely Planet Traveller Magazine
Lonely Planet Traveller, formerly Lonely Planet Magazine, is the UK's best selling travel magazine. It is the definitive source of travel inspiration, allowing you to discover the world through fresh eyes and add original experiences to your travel wish list. Covering the UK and a broad range of global destinations, Lonely Planet Traveller gets under the skin of many familiar and far less explored destinations.
The award-winning magazine features intelligent, atmospheric insights from Lonely Planet's unique international network of travel writers, alongside spectacular photography that guarantees to truly 'take you there' each month like no other travel title can. Don't miss out, order your Lonely Planet Traveller subscription now.
In Recent Issues of Lonely Planet Traveller
52 best weekends away… Explore Moorish wonders in Spain… Mix cocktails in New York… Escape to the coast of Sicily… Camp in the desert in Jordan… 50 top destinations for the year ahead, from budget breaks to idyllic island escapes… Brazil: Join the party in our favourite country… USA: On the trail of Cajun culture in Louisiana… Chase the Northern Lights… Cuba: Discover the real Caribbean… Australia: Coast to coast on the Indian Pacific train… Stay in an ice hotel… Explore Bavaria's fairytale castles… New York: Taste the best of the Big Apple's classic food… Amsterdam: From bars to bike rides, locals share their secrets… Order your Lonely Planet Traveller Magazine subscription today for more inspiring features like this delivered free to your door every month.
Who Reads Lonely Planet Traveller Magazine?
Holiday loving consumers who are interested in experiencing other cultures and exploring new destinations. They spend significantly more than the average person on travelling each year.