National Geographic Subscription
Subscribe now and save up to 62%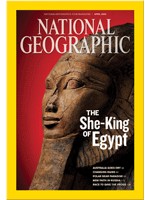 From £27.50 to £56.00
From 2 stores
National Geographic
National Geographic Magazine allows you to explore the world's culture, geography and history, from remote Amazon tribes, to the animals of the Sahara, back in time to the dawn of the Solar System or the depths of the oceans. National Geographic is known universally for its compelling articles, stunning, award-winning photography, and up-to-the minute news from science and nature.
Order your National Geographic Subscription now to save up to 68% off the cover price and receive a superb FREE National Geographic fleece jacket and wall map. You will also get free delivery to your door every month.
National Geographic Magazine – In the Latest Issue
The cover story ponders the following questions… Throughout history, only one Earth has been known to exist in the universe, but are we really alone? Could we be about to discover new life-bearing planets? Elsewhere in the magazine, a report on the Hadza tribe of Tanzania – hunter-gatherers who live 10,000 years in the past. The Uygurs of oil-rich West China – are they becoming strangers in their own land? How Resurrection Island in South Georgia has once again become awash with life. Plus, breathtaking photographs from around the world and much more.
Don't miss out, subscribe to National Geographic Magazine today!