Countryfile Magazine Subscription
Subscribe now and save up to 79%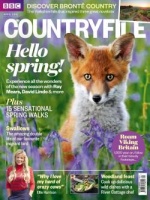 From £5.00 to £49.50
From 3 stores
Countryfile Magazine
The number one country interest magazine in the UK, BBC Countryfile is the ultimate companion to the British countryside. It celebrates the
beauty and diversity of the countryside, suggesting great places to go and things to see every month.
Countryfile takes you on thrilling journeys into enchanting landscapes through gripping features and tried and tested walks. Featuring stunning photography and a great line-up of writers, it is your monthly escape to rural bliss. Order your Countryfile Magazine subscription today and make sure you never miss an issue, with free delivery of each issue to your door.
In Recent Issues of Countryfile
Make your rural dream come true: How to find the perfect home and live the good life… Go whale watching; plus 20 more experiences you must try this year… Masterclass: Take better landscape photographs… Isle of Man: Discover tranquil coasts and fairy glens… Get fit for free: Why the outdoors is the place to exercise… Britain's Amazon, plus nine other stunning landscapes to rival the best in the world… The secret life of rabbits… 20 perfect seaside day trips… Explore Lewes and the South Downs… Bill Oddie: "What I'd do if I were king"… Hear the majestic songs of the skylark… Join Julia Bradbury at an English stately home… Go foraging for tasty treats on your next walk… Order your Countryfile Magazine subscription today for more fascinating articles like this every month.
Who Reads Countryfile Magazine?
Anyone with an interest in the countryside, farming & wildlife who loves the BBC TV programme.