Radio Times Magazine Subscription
Subscribe now and save up to 71%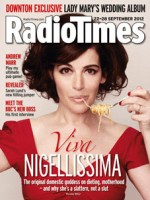 From £6.00 to £137.70
From 3 stores
Radio Times Magazine
Radio Times is the most comprehensive weekly listings magazine for UK TV and Radio programmes. Covering over 85 digital TV and Radio channels, Radio Times is an essential guide and reference, featuring interviews, recommendations and insights into your favourite shows. Make sure you never miss your favourite shows again and keep up to date with the news and gossip from the best TV series on every channel. Don't miss out – subscribe to Radio Times Magazine today!
In Recent Issues of Radio Times Magazine
Major new courtroom drama – Julie Walters: Why I want to make you think… Ricky Gervais – fame, infamy and me… Downton's storming finale… Gareth Malone – my choir of army wives… Return of the rev – Tom Hollander on sex and the clergy… How the killjoys nearly crushed Monty Python… Doctor Who – His greatest escape. The Doctor's death defying finale in the desert… Life after Gene Hunt – Philip Glenister is back… More more features on your favourite TV shows and of course the most up to date and complete TV guide available, order your Radio Times subscription today.