Saga Magazine Subscription
Subscribe now and save up to 75%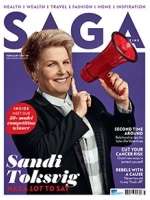 From £12.00 to £12.00
From 1 store
Saga Magazine
Officially the UK's bestselling monthly magazine, Saga Magazine is a general interest magazine whose aim is to entertain, inform and inspire its readers.
Every issue of your Saga Magazine subscription will feature celebrity interviews with big stars such as Michael Douglas, Joanna Lumley, George Clooney and Tom Selleck, news, views and trivia that will interest you and a feast of entertainment including art, music, film and books. There are interesting articles on gardening and the home, including interiors, recipe ideas, wine reviews and cookery tips. There's a health section with authoritative advice and information on a wide variety of health matters. Fashion and beauty sections featuring the latest looks for both men and women. A travel section features guides to various countries, including hidden attractions and popular destination both at home and abroad. Saga Magazine will also keep you up to date with money and property matters, with advice and features on these constantly changing topics.
There's so much to read in every issue of Saga Magazine. Make sure you never miss an issue – order your Saga Magazine subscription today and save a huge amount on the regular cover price, plus get free delivery to your door each and every month.
In Recent Issues of Saga Magazine
The young one – an exclusive interview with Cliff Richard at 70… Internet dating – four couples take the plunge… To defer or not to defer? The great pensions question… Man-eater – the tiger that hunted hunters… Back on top – a year after that sacking, Arlene Phillips talks to Saga Magazine about losing a family and finding her feet… No scalpel required – the new-look facelifts… Sex, drugs and Stirling Moss… Artful Codger – hold your sides, David Jason's back… All the Queen's bees – behind the scenes at Buckingham Palace… Seaside special – the great British pier fights back. Order your Saga Magazine subscription now for a great selection of articles, interviews and more every month.
Who Reads Saga Magazine?
Targeted at the over 50s, Saga Magazine enjoys a broad reader base with 63% of readers over the age of 65. 60% of Saga readers are women; 40% are men. Join them by ordering your Saga Magazine subscription today!
Official Website