The Economist Magazine Subscription
Subscribe now and save up to 90%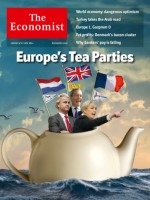 From £12.00 to £145.00
From 2 stores
The Economist Magazine
With a readership of over 4 million people worldwide, The Economist has built a reputation for insightful analysis and opinion, covering all aspects of world events.
The weekly paper includes features within the following sections:
Great Britain
United States
The Americas
Asia
China
Middle East & Africa
Business
Finance & Economics
Science & Technology
Plus, many more pages of great, though provoking content, keeping up to date with all the latest world current affairs. Subscribe to The Economist Magazine today, get free delivery to your door and never miss an issue.
In Recent Issues of The Economist
Political insurgency: Europe's Tea Parties… The world economy in 2014: Why optimism may be bad news… Pharmaceutical pricing: The new drugs war… South Sudan: destroying itself from within… A brief history of hotels… The Economist's country of the year… Argentina's socioeconomic statistics: Still lying after all these years… The Federal Reserve at 100: Age shall not weary her… Unlocking the Middle East: The promise of the Iran deal… BlackRock: How the world's biggest investor is changing the financial landscape… Every step you take: Google Glass, ubiquitous cameras and the threat to privacy… Subterranean capitalist blues: How red tape and taxes are forcing corporate America into the shadows… Order your Economist subscription today for more fascinating articles like this every week.
Who Reads The Economist Magazine?
Typical Economist readers are independently minded, savvy and successful, agreeing that quality and excellence are important in everything they do. Economist readers are ideas people who like to challenge the way we think about the world.