Viz Magazine Subscription
Subscribe now and save up to 90%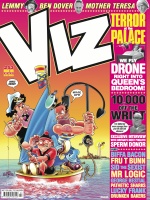 From £1.00 to £29.99
From 2 stores
Viz Magazine
While glossy men's magazines come and go, Viz has remained a staple on the newsagents' shelves since 1979. Viz promises never to change and never to really grow up. It's an irreverent mix of bad language, comic cartoons and sharp satire. Regular comic characters include the Fat Slags, Sid the Sexist, and Roger Mellie the Man on the Telly.
Viz comic has some hugely popular regular sections including Top Tips and Roger's Profanisaurus. With ten issues every year, make sure you subscribe today and never miss an issue.
In Recent Copies of Viz
Sex robots – the future of nookie revealed… The return of Captain Morgan and his Hammond Organ… 20 things you never knew about Star Wars… Check out what's burning on the barbecue of the future… Win a week at Center Parcs with The Duke Of Kent… Prehistoric adventure with Stone Age Jack Black… Under the table football corruption game – play it now before Sepp cleans up FIFA once and for all (and he really means it this time)… Order your Viz subscription now for guaranteed laughs every month.
Who Reads Viz Magazine?
A loyal and passionate fanbase on of (mostly) male readers with an average age of 36.