Your Home Magazine Subscription
Subscribe now and save up to 16%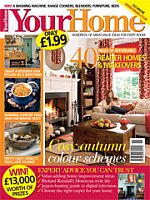 From £4.99 to £22.00
From 2 stores
Your Home Magazine
Offering inspirational and practical ways to revamp and decorate your property, Your Home Magazine has an expert team who offer hundreds of great-value ideas for every room. Your Home Magazine is affordable, enthusiastic and easy to understand and will inspire the decorator in everybody.
Find out how to make the most of your living space by ordering a Your Home Magazine subscription today. Every month you will find inspiring features on revamped homes, with quick fixes and complete renovation projects. The expert home improvement advice will give you everything you need to organise a new look for your home, with step-by-step instructions that really work. Your Home Magazine is also conscious of budget and details exactly what each project is likely to cost and how long it will take to complete.
Your Home is an invaluable source of information on how to achieve designer homes within a realistic budget. Order your subscription today to save even more off the cover price, along with free delivery of each issue.
In Recent Issues of Your Home Magazine
Budget kitchen updates… 43 pages of fabulous reader homes and makeovers… 549 gorgeous autumn ideas… Affordable updates for living rooms, hallways and bedrooms… Kitchen and bathroom advice – inspiring transformations on a budget… Practical guide to food processors… Extend your home and increase your space… Real-life solutions for problem rooms… Add value to your home – 12 easy steps for success… Energise your home with tropical colours… DIY quick fixes… 25 ways to give your windows designer style. Every issue of Your Home Magazine features great articles like this and more. Order your magazine subscription today!
Official Website