25 Beautiful Homes Magazine Subscription
Subscribe now and save up to 40%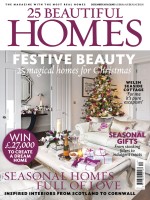 From £30.99 to £72.99
From 3 stores
25 Beautiful Homes Magazine
Holding a unique position in the market, 25 Beautiful Homes Magazines delivers on its promise of featuring real life homes that inspire. It's the only magazine to deliver such a broad spectrum of homes full of inspiring ideas that readers can use to create their own beautiful home.
Through its featured homes, the magazine showcases every interior design style from contemporary to country and high-end to high street. Start your subscription today and ensure you never miss an issue, with free delivery to your door every month.
In Recent Issues of 25 Beautiful Homes
Dressed to impress: A stylish converted farmhouse, clever ideas for a maisonette & a renovated factory… Great ideas for upholstery, window treatments and glass extensions… Country charm: Homes with lasting style… Room to expand: Revamped homes from London to East Sussex… Clever tips and ideas for every room… A home in The Highlands: Creating the maximum space with the minimum spend… Order your 25 Beautiful Homes subscription today for more wonderful articles like this every month.
Who Reads 25 Beautiful Homes Magazine?
25 Beautiful Homes is designed for women with traditional tastes and a sense of personal style. Its loyal community of readers aspire to their dream house and enjoy looking at other people's homes, designs and styles for inspiration.