220 Triathlon Magazine Subscription
Subscribe now and save up to 82%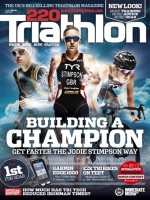 From £5.00 to £55.00
From 3 stores
220 Triathlon Magazine
Bringing together all the best elements of the world's fastest growing sport in a practical and visually stunning format, 220 Triathlon Magazine will keep you up to date with everything from the triathlon arena. 220 Triathlon features in-depth gear tests, insightful race reports and first class coaching advice to help you swim, bike and run faster. Order a 220 Triathlon subscription now to save a huge amount on the regular cover price and get free delivery each month.
220 Triathlon Magazine – Recent Issues
Features in recent editions of 220 Triathlon Magazine have included… Your first triathlon – food, training and kit tips to keep you confident and fighting fit… How to improve your cycling technique without leaving the house… Unsung heroes of 2009 – the triathletes who flew under the radar but helped make last year a spectacular one… How to conquer dehydration in those long events… Gear for the new year including backpacks, jackets and road bikes.
Also in previous copies of 220 Triathlon… The Ironman Hawaii – news and behind the scenes stories from the race… Riding with IMUK champ Phil Gravs on his favourite cycle route… How improving your breaststroke and backstroke with help your front crawl… Improve your mental strength with Team GB's head cycling psychotherapist Steven Peters.
There's much more like this in every issue so get your 220 Triathlon magazine subscription today.