Cycling Plus Magazine Subscription
Subscribe now and save up to 39%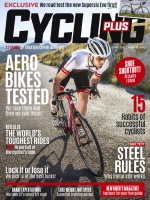 From £19.99 to £49.50
From 3 stores
Cycling Plus Magazine
If you love to ride then Cycling Plus is the magazine for you, representing the excitement and joy of cycling in its infinite variety. It is filled with stunning visuals, lively and enthusiastic opinions, witty and concise editorials and evocative features that take you inside every aspect of cycling. Every month, Cycling Plus features expert reviews of the latest road bikes and gear, inspirational rides and detailed routes from the UK and all over the world, and offers superb advice on nutrition, fitness and training that is guaranteed to help you get the best from yourself and your bike.
Cycling Plus Magazine covers all aspects of road cycling and tells you where to tour, how to ride better, what the best equipment is and how to fix and maintain your bike. There are 25 pages of independent product test every month to point you in the right direction. Order your Cycling Plus subscription now and benefit from huge savings on the cover price and free delivery to your door.
The Latest Issues of Cycling Plus Magazine
The bespoke bike special – get your perfect ride from just £800… Meet the people shaping your cycling future… Riding high in Rwanda with MTB legend Tom Ritchey… Olympic skier Alain Baxter reveals his hopes for two-wheel victory at the Olympics… Bradley Wiggins shows how to lose that excess weight the way he did for the 2009 Tour De France… Training hotspots with great winter sun… Reports from a 12 hour half-day time trial and an off road cyclecross event… How to survive any crash situation and ride away every time… Tons of gear tests including sat-navs for bikes. All this and much more – Subscribe to Cycling Plus now!