Amateur Gardening Magazine Subscription
Subscribe now and save up to 55%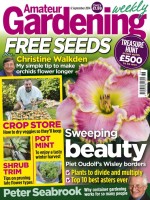 From £11.99 to £139.49
From 3 stores
Amateur Gardening Magazine
Amateur Gardening has been at the forefront of the UK garden scene for over a century, offering top practical gardening advice every week. The magazine is aimed at gardeners whose interest is in growing, and it covers a wide range of horticultural interests which is what makes it so popular. This is supported by expert opinion and tips from some of gardening's most influential exponents. There are beautifully illustrated inspirational features covering plant and flower groups and people and places in gardening, and a series looking at private gardens around the country, uniquely allied to The Yellow Book gardening charity. There's always something new inside Amateur Gardening, whether you're a novice or a green-fingered expert.
Amateur Gardening will nurture and inspire you to transform any garden, big or small, with expert hints and tips for the upcoming seasons. It's packed with practical gardening advice that's easy to follow. Don't miss out, order your Amateur Gardening subscription today.
In Recent Issues of Amateur Gardening
Forever flowers: tips on easy flower drying techniques… Get great blooms for Christmas with our forced bulbs trick… How to make perfect compost… How to store tomatoes… The spring bulb buyer's guide… Become a sweet pea expert… Simple tips to make orchids flower longer… Tips on pruning late flower types. Order your Amateur Gardening subscription today and get the magazine delivered to your door each week.
Who Reads Amateur Gardening Magazine?
Keen and active gardeners of all ages. 70% of readers are female.