Gardeners' World Magazine Subscription
Subscribe now and save up to 81%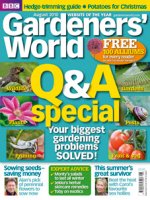 From £5.00 to £47.90
From 3 stores
Gardeners' World Magazine
The most popular gardening magazine in the UK, BBC Gardeners' World Magazine has a larger reader base than all other gardening titles put together. Gardeners' World is a monthly magazine that provides a unique mix of friendly practical gardening advice with inspiring gardens, amazing plants and brilliant shopping ideas.
Full of fresh ideas and inspiration, every issue of your subscription features tips on what aspect of the garden you should be tending to this month, with authoritative advice from the biggest name in gardening. Featuring insider knowledge and beautiful photography, Gardeners' World Magazine has everything you need to get the most out of your garden, allotment, hanging baskets and flower pots.
Order your Gardeners' World Magazine subscription now and enjoy a huge discount on the regular cover price, plus get free delivery to your door each month. Subscribe today and never miss an issue again!
In Recent Issues of Gardeners' World Magazine
The top 10 plants for birds – berries and hips, seeds and winter shelter… As seen on TV – Alan Titchmarsh's garden secrets revealed… Gardeners' World Magazine reveals your top-rated plants… 7 pages of what to do now, including pruning your fruit trees, preventing frost damage and how to save money on vegetable seeds… Ready-made border plans… IS wildlife at risk from the way you garden?… Put flavour first – delicious strawberries to plant now, foolproof garlic and fruit for small spaces… Plant the best new roses… Planting for colour… Reviving your soil… Pruning essentials… Free seeds for every reader. Get your Gardeners' World subscription now for more great features like this and free gifts every month!
Who Reads BBC Gardeners' World Magazine?
Appealing to anyone interested in gardening, Gardeners' World Magazine enjoy a large reader base, 61% of whom are women. It is Britain's best selling and most respected gardening magazine.