Angler's Mail Magazine Subscription
Subscribe now and save up to 32%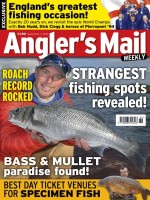 From £18.99 to £176.99
From 3 stores
Angler's Mail Magazine
Angler's Mail is the brightest weekly coarse and carp fishing magazine in the UK. It features lots of great content including news coverage on the biggest fish caught and where to catch them, match fishing results, instructional features, bait & tackle reviews, plus find out where to fish this weekend in the regular feature from around the UK written by seven regional experts. Readers' problems are also solved each week by a team of specialists.
Order your Anglers Mail subscription now; it's great value and will put more fish in your net and a smile on your face!
In Recent Issues of Angler's Mail
Greatest tips for specimen fish: Gary Newman's secrets revealed… 12 top tricks to put more lumps on the bank… The mos peaceful places to fish revealed… Exclusive hints to catch bigger fish… Catch canal carp… Amazing long range carp rod innovation… Leading canal, river and lake match anglers revealed… How to stop poachers… Strangest fishing spots revealed… Bass and mullet paradise found… England's greatest fishing occasion: Exactly 20 years on Angler's Mail revisits the epic World Champs with the heroes of '94. Order your Angler's Mail Magazine subscription today for more great features like this every week.
Who Reads Anglers Mail Magazine?
Angling fans who want to keep up with the latest trends in the world of fishing.