BBC Wildlife Magazine Subscription
Subscribe now and save up to 76%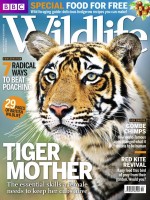 From £5.00 to £38.50
From 3 stores
BBC Wildlife Magazine
The number 1 wildlife magazine in the UK, BBC Wildlife is a celebration of the natural world. It aims to inspire readers with the sheer wonder and beauty of nature. BBC Wildlife Magazine is packed with fascinating and informative features written by experts and illustrated with award winning photography.
BBC Wildlife investigates the issues affecting wildlife around the world, highlighting great conservation initiatives and celebrating the people who are really making a difference. Don't miss an issue, order your Wildlife Magazine subscription today and get free delivery to your door every month.
In Recent Issues of BBC Wildlife
Food for free: a wild foraging guide… Seven radical ways to beat poaching… Tiger Mother – the essential skills a female needs to keep her cubs alive… Red kite revival – many feed this bird of prey from their garden. Would you?.. Natural innovation – how nature inspires cutting-edge science… Looking for red squirrels – is the Lake District Britain's best wildlife destination?.. Visions for a wilder Britain – how rewilding could transform our landscape… Why we need tougher marine conservation… World's greatest wildlife mysteries… New UK butterflies: discover exotic migrants. Order your BBC Wildlife Magazine subscription today for more amazing articles like this in every issue.
Who Reads BBC Wildlife Magazine?
An even split of men and women who all share a passion for wildlife.