Beano Magazine Subscription
Subscribe now and save up to 48%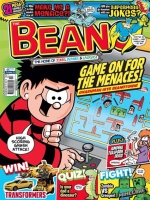 From £24.00 to £75.00
From 3 stores
Beano Magazine
More than just a comic, over 75 years on The Beano is still the home of jokes, laughs and pranks, featuring the naughtiest kids imaginable in their latest adventures. Inside the magazine, you'll find Dennis The Menace, Gnasher, Roger The Dodger, Minnie The Minx, The Bash Street Kids and Billy Whizz. The Beano is full of fun things to do such as competitions, puzzles and lots more. The much loved and popular characters are still as mischievous as ever!
The Beano is a great way to get your kids reading. Order your Beano subscription today for huge savings off the newsagent price and free delivery to your door each week.
In Recent Copies of The Beano
Game on for the Menaces: Gnashman hits Beanotown… Quiz: Is your Dad a dinosaur?.. You'll go bananas with our Superhero jokes… Escape from Beanotown Zoo: Dennis, Gnasher and the disappearing elephant… Make toilet roll ninjas!.. Help Minnie escape the Minx Maze… Super Menace Ball: Forget footy, there's a new game in town… Bash Street School bonfire blunder – janitor loses spectacles, throws waste paper pile on blaze… Dennis' magic menace ink – top send secret messages… The headless headmaster of Horrible Hall – a spooky Halloween story… Order your Beano subscription now for more fun comic strips, puzzles and laughs every week.
Who Reads Beano Magazine?
About half a million energetic and fun loving children, mostly between the ages of 7 and 10 years old, with 15% of the reader base kids between 11 and 19 years. Boys and girls both love The Beano!