Match Magazine Subscription
Subscribe now and save up to 25%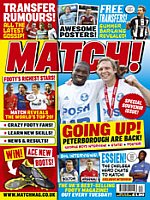 From £22.49 to £211.14
From 2 stores
Match Magazine
MATCH! is a weekly football magazine aimed at youngsters. It is also the UK's best selling football magazine. Match magazine will keep you up to date with the English Premier League as well as nationwide leagues and international games. Every issue features player interviews, a skill school, games and quizzes.
Every week of your Match Magazine Subscription includes Matchfacts, which gives details and ratings of every team and player, including all your favourites.
Match Magazine features the biggest stars, best interviews and latest football news every week. There are 51 issues per year – order your subscription today and save a huge amount off the regular weekly price, with FREE delivery to your door!
In Recent Issues of Match
Fernando Torres, Peter Odemwingie, Brede Hangeland, Phil Jagielka and Thomas Sorensen all talk to MATCH Magazine… FIFA 11 tips and tricks… Previews of the next Euro 2012 qualifiers… A review of the new Nike Superfly II boots… Every issue also features a roundup of the week's games and some great player posters. Order a Match Magazine subscription today!
Who Reads Match Magazine?
MATCH! is aimed at football mad children and teenagers aged 7-16, predominantly boys with an average reader age of 12.
Official Website