Bike Magazine Subscription
Subscribe now and save up to 61%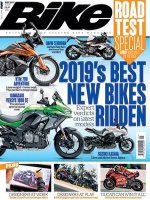 From £5.00 to £45.00
From 3 stores
Bike Magazine
The UK's market-leading monthly motorcycle magazine, Bike Magazine celebrates everything about why we live and breathe motorcycling. Bike Magazine features the best writing, stunning photography and a real understanding of the sense of freedom that owning a motorcycle gives.
Every issue of Bike Magazine is filled with the latest news, reviews, opinion and interviews, plus great features on new bikes, classic routes and much more from the world of motorcycles. A Bike Magazine subscription makes the perfect gift for a motorcycle enthusiast.
Order your Bike Magazine Subscription today and save on the regular newsagent price, plus get free delivery to your door every month.
In Recent Issues of Bike Magazine
Bugatti Veyron vs BMW S1000RR – The ultimate challenge: the world's fastest car vs the world's fastest bike… Traffic cop and speed camera insider's guide… How to corner faster… Riding with Kevin Schwantz… The big test: Euro sports bikes… Super Tenere – 600 miles from snowcapped peaks to sunbaked plains on Yamaha's new GS challenger… How to buy a speed triple… Never crash again – how to predict your next get-off… Riding with Loris Capirossi… The planet's toughest bike. There are great articles, how-to's and reviews in every issue of Bike Magazine – order your subscription today!
Who Reads Bike Magazine?
The typical reader is male, aged 35-54 with an average age of 43. Most Bike Magazine readers are experienced bikers, but 17% have been riding for less than 5 years. Two thirds of Bike readers own more than one motorcycle with ownership split between sports/tourers and super sports bikes.
Official Website