MCN Magazine Subscription
Subscribe now and save up to 39%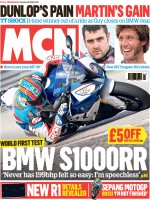 From £79.10 to £88.40
From 3 stores
MCN Magazine
Since its launch in 1955, MCN (Motorcycle News) has been the biggest selling motorcycle publication in the UK. An MCN subscription keeps you up to date with vital matters in the world of motorcycling with a constant feed of the best biking news, reviews, world exclusives, bike tests, sport, opinion and advice.
By subscribing to MCN you are guaranteed the lowest price along with free delivery to your door every week. Don't miss out, order your MCN subscription now.
In Recent Issues of MCN
World first test of the BMW S1000RR – never before has 199bhp felt so easy… Riding the new MV Dragster RR… New Yamaha R1 details revealed… Dunlop's Pain, Martin's Gain – 11 time TT winner out of a ride as Guy closes on BMW deal… MotoGP madness – Rossi wins in the race of the year… New Triumph Tiger & KTM… Free awards pull-out – the best bikes of the year… Ultimate adventure test – is the GS beaten? After 843 miles and 37 hours in the Alps, we finally have the answer. Order your MCN subscription today for more great features like this every week.
Who Reads MCN Magazine?
Motorcyle riders and enthusiasts of all ages.