Fast Bikes Magazine Subscription
Subscribe now and save up to 31%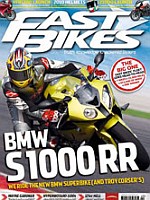 From £42.99 to £78.00
From 2 stores
Fast Bikes Magazine
The definitive high-octane sportsbike magazine, Fast Bikes features the most reliable and exciting tests in every issue. Fast Bikes Magazine has something for every sportsbike fan, with in depth insider news, behind the scenes race features and useful and practical advice for riding and maintaining your bike. There are exclusive columns from current MotoGP, World and British Superbike racers and a back page column by Steve Parrish.
If you're looking for a sportsbike magazine that gives impartial, comparative testing in each issue then a Fast Bikes magazine subscription is all you need. It'll make you a better rider, help you to modify your bike and know your legal rights, and of course show you what stands out with the latest bikes and kit. Order you subscription today – you don't want to miss out!
In Recent Issues of Fast Bikes Magazine
The BMW S1000RR – an 8 page report on the most exciting new sportsbike for 2010… The Honda VFR1200F – does Honda's long awaited V4 live up to the quality of its engine?… The Kawasaki Z1000 – is it any good?… Around the world in 80 hours – one man on a Yamaha YZF-R125 over 1300 miles… Straight talking Aussie Wayne Gardner talks about the highs and lows of his career.
Also in recent editions of Fast Bikes Magazine… The ultimate New vs Used test with the best bikes from each engine configuration going against their ancestors… Ducati release the Hypermotard 796… Advanced Road Rider Academy – find out how to be faster, smoother and safer on the road… A look back at the racers who defined 250GP racing… Essential kit – treat yourself, you deserve it! Plus much more in every issue of Fast Bikes.