Classic Rock Magazine Subscription
Subscribe now and save up to 29%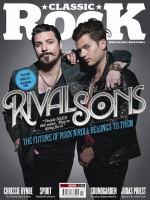 From £13.65 to £56.00
From 3 stores
Classic Rock Magazine
Classic Rock Magazine is the definitive voice in rock journalism, with news, interviews, tour dates, reviews and much more. Every month Classic Rock Magazine brings you the stories behind rock legends such as Led Zeppelin, Queen and Metallica and new Classic Rock torch bearers such as Black Stone Cherry and Dragonforce, featuring in-depth profiles and exclusives from the world of hard rock and heavy metal. Keep up to date with all the latest news from the world of rock.
There's a huge reviews section in each issue, including new and classic albums, DVDs and live shows. Also, on the cover of every magazine is a free CD or DVD. There have been over 100 issues and the magazine now has more readers than NME.
This is the finest rock magazine on the planet and a superb gift for any rock music fan. Don't miss out – subscribe to Classic Rock Magazine now and save up to 40% off the cover price with free delivery to your door. Hurry, this offer must end soon!
In Recent Issues of Classic Rock Magazine
The kidnapping of Jimi Hendrix – Mafia plot or set-up by manager Mike Jeffrey?… Alice Cooper takes over as guest editor and explains how checking into an asylum influenced some of his best work… Pearl Jam – twenty songs that made the band… Gene Simmons on making money and wasting money… Find out all about the Metallica and Lou Reed collaboration… AC/DC – at war with their label; at war with their producer; at war with their past. Classic Rock get to the bottom of the making of For Those About To Rock. Order your subscription today for great features like this every month and keep up to date with all that's new (and not so new) in the world of Classic Rock.