Metal Hammer Magazine Subscription
Subscribe now and save up to 30%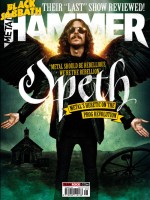 From £11.35 to £47.00
From 3 stores
Metal Hammer Magazine
The only monthly UK metal magazine, Metal Hammer covers bands from the whole world of rock and metal music, be it punk, hardcore, gothic, emo, alternative or good old classic heavy metal. Metal Hammer magazine features a range of music from both traditional and contemporary rock and metal and doesn't just concentrate on the best bands from the UK and USA, but from all over the world.
Each issue of Metal Hammer magazine features a huge news section with your favourite bands, reviews of all the latest music and video releases and interviews with established acts and upcoming stars. Get your Metal Hammer subscription now to make sure you're among the first to hear about rising new bands on the scene, upcoming gigs and festivals and new CDs and downloads.
With your subscription, every month you'll also receive a free cover mounted CD packed with the latest songs from current rock and metal bands. Some issues may also feature free DVDs and other great gifts.
In Recent Issues of Metal Hammer
Recent magazines have included… Corey Taylor's guide to Slipknot featuring unseen photos and lost members… The death and resurrection of Alice In Chains… Rob Zombie returns with a new movie and new CD… Five Finger Death Punch grace their first ever Metal Hammer cover, and celebrate the occasion with a set of free dog tags for every reader… Dino Cazares and Burton C Bell talk about the Fear Factory reunion… Free posters of Saxon, Disturbed and exclusive Mastodon artwork… Lars Ulrich of Metallica talks about going from a potential pro tennis player to metal drummer.
Features like this and much more every month with your Metal Hammer Subscription. As well as saving a huge amount off the cover price, subscribers also benefit from a cleaner, clearer front cover and free delivery. Order your subscription now!