Classic & Sports Car Magazine Subscription
Subscribe now and save up to 94%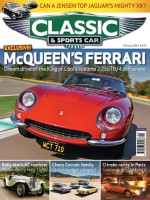 From £1.00 to £45.99
From 2 stores
Classic & Sports Car Magazine
The world's best selling classic car magazine and the market leader for over 20 years, Classic & Sports Car Magazine covers everything from mainstream classics to super-exotica and treats them all with the same passion. Famous for its in-depth, authoritative feature articles and lush, award-winning photography, Classic & Sports Car Magazine is the acknowledged benchmark that other classic car magazines aspire to. Part of what makes it special is that it is created by enthusiasts for enthusiasts. Everyone on the team owns, maintains and uses their own classic cars and their triumphs and traumas are related in each issue.
Don't miss out on anything the magazine has to offer; order your Classic & Sports Car Magazine subscription today and get free delivery every month.
In Recent Issues of Classic and Sports Car
McQueen's Ferrari: Dream drive of the king of cool's sublime Ferrari 275GTB/4 at Fiorano… Rally star's AC Roadster, the ex-Betty Haig 16/80… Chevy Corvair family: Stylish budget compact… Beatles cars: John's Iso, Paul's Aston, George's Dino & Ringo's Facel. Their favourite exotics reunited, plus the Fab Four's other motoring highlights… Full Goodwood report: Essential Revival news… Ferrari 196S: Better than a Testa Rossa?… Jaguar D-Type on the road: Scottish pilgrimage in Jim Clark's racer… TR7-8: Buying a sports car bargain… Lotus Exige vs Noble M12: Brilliant lightweight Brits… Sensational Ford RS200: Inside story of a rally icon… Order your Classic and Sports Car subscription today for more great coverage like this in every issue.
Who Reads Classic & Sports Car Magazine?
The magazine is enjoyed by anyone buying, owning, selling, maintaining, restoring, racing, or even just dreaming about, classic cars.