Practical Classics Magazine Subscription
Subscribe now and save up to 30%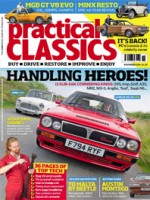 From £3.65 to £46.80
From 3 stores
Practical Classics Magazine
The UK's biggest selling hands-on classic car magazine, Practical Classics brings enthusiasts the best in technical advice and automotive experience. All the writers for Practical Classics work on and restore their own classic cars and share their experiences with the readers. This gives the magazine the most authoritative voice of any publication.
Every issue of Practical Classics includes classic driving features, money-saving workshop wisdom, real-world product tests, rigorous buying advice, news, events, nostalgia and fascinating historical insight. Order your Practical Classics subscription today for huge savings off the regular price, with free delivery to your door.
In Recent Issues of Practical Classics
Hilman Minx restoration – forty years in the making and worth every second… Dead Ringers star Jon Culshaw's fleet of Fords… MGB GT V8 restoration – tweaked to 219bhp and it still does 30mpg… Minder's motors: Arthur's cars reunited for the first time in 20 years… Traveller restoration – the best we've seen in years and he's only 21… The winter tech guide… Handling heros: 13 sub-£6k cornering kings… To Malta by Beetle: Two people, 2000 miles, two weeks… Britain vs USA – four Brit muscle cars battle with the Mustang. Order your Practical Classics subscription today for more great articles like this every month.
Who Reads Practical Classics Magazine?
Classic car enthusiasts across the UK.