Top Gear Magazine Subscription
Subscribe now and save up to 79%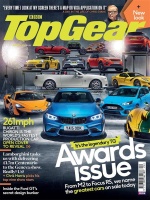 From £5.00 to £44.00
From 4 stores
Top Gear Magazine
First published in 1993, BBC Top Gear Magazine has become Britain's biggest selling car magazine. Featuring the latest news and reviews from the motoring world, leading writers and photographers, and not forgetting James May, Richard Hammond and Jeremy Clarkson, Top Gear Magazine creates a unique blend of knowledge and entertainment.
Now a global brand, Top Gear brings together the world's best photographers and journalists to offer readers a unique motoring and lifestyle experience. Don't miss out – subscribe today!
In Recent Issues of Top Gear Magazine
The all new Jaguar F-Type and why it will be the greatest car of 2013… The McLaren P1 – 20 years in the making… Top Gear invades France and sets a new world record… British Beef – home-grown heroes here next year… Sir Chris Hoy – the man who generates more torques than a Ferrari F12… New dawn – sideways in Tokyo's back to basics drift heroes… Britain's top hot hatches rated by Stig and science… James May's guide to watches! For more like this every month, order your Top Gear Magazine subscription now.
Who reads Top Gear Magazine?
Top Gear's readership is predominantly male (85%), with an average age of 34. Readers would consider a car an indispensable part of their lifestyle.