Coast Magazine Subscription
Subscribe now and save up to 10%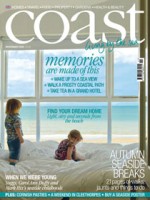 From £45.36 to £97.20
From 2 stores
Coast Magazine
Coast Magazine is the only publication that celebrates the uniqueness of Britain's coastline and is the ideal read for anyone who lives on the coast or dreams of living by the sea. Coast Magazine offers escapism by showing you the homes of people who already live by the sea and caters for those with nostalgia for the seaside, appealing to anyone who possesses the British love of the coast.
Each issue is packed full of seaside properties, travel writing and mouth-watering recipes. There's an in-depth property guide featuring homes from around the British coast along with features on people who have taken the plunge and made their move. Whether you're looking for ideas and inspiration, practical advice or pure escapism, Coast Magazine has it all.
Ideal as a gift subscription, or treat yourself! Don't miss out – subscribe to Coast Magazine today and start celebrating the British seaside. Order now and you'll receive all 12 issues each year delivered to your door at 20% off the cover price. Hurry, this offer must end soon!
In Recent Issues of Coast Magazine
Does life get better than this? The bliss of a beach house… Seaside homes special: design inspiration, instant style updates and dream houses… Why you should move to Margate: art, property bargains, sandy beaches and vintage shops… Plan your escape – the British holiday special: 25 seaside getaways for families, adventurers and hedonists… Stay in Alain de Botton's holiday home… Fresh, fast food – tasty meals for summer trips. For more great articles like this, order your Coast magazine subscription today.