Country Living Magazine Subscription
Subscribe now and save up to 64%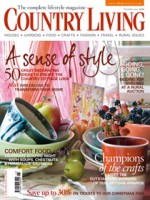 From £10.00 to £36.99
From 3 stores
Country Living Magazine
Whether you live in the town or countryside, Country Living Magazine will give you a wealth of ideas for your home and garden. Learn about rural issue and traditional crafts, enjoy irresistible recipes using seasonal foods and, above all, escape the strain and stress of modern life. Country Living offers inspiration and practical advice on homes, gardens, decorating, entertainment and home improvement along with features on antiques and collectibles, crafts and much more.
Country Living Magazine celebrates a timeless and traditional way of living and is the ideal magazine for those who love to garden, cook or strive to maintain a beautiful household. Recent features have included vintage style collectables, decorating with damask, down to earth potato dishes, the revival of crafts and a guide to wood burning stoves.
Perfect as a gift subscription for any occasion. Don't miss out – subscribe to Country Living today and benefit from massive savings off the cover price and free delivery to your door each month!
In Recent Issues of Country Living Magazine
Inspired by nature – springtime in a bluebell wood; decorate with pebble colours; painted eggs and floral wreaths… Live the dream – Georgian rectories for sale… Kitchen table talents – grow your hobby into a business… Decorating your dream home – natural finds in a Cornish farmhouse… Shoestring style in a secluded cabin… Holiday retreats – a travel guide to hideaways abroad… Passionate gardeners – heavenly hellebores and a winter carpet of colour… Healthy living – the meat-free Sunday lunch and energy boosting diets. Order your Country Living subscription today for more like this delivered to your door every month.