Country Life Magazine Subscription
Subscribe now and save up to 25%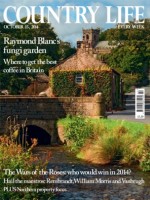 From £35.99 to £295.99
From 3 stores
Compare
Issues
Save
Price
Subscribe
12
25%
£35.99
Subscribe Now
51
20%
£153.49
102
25%
£288.49
Subscribe now and get a £5 Amazon.co.uk Gift Card!
13
10%
£38.99
Subscribe Now
51
10%
£166.49
102
20%
£295.99
12
18%
£37.99
Subscribe Now
51
11%
£165.49
102
20%
£294.99
Join our newsletter for exclusive deals, voucher codes & more!
Country Life Magazine
Since its launch in 1897 Country Life has been the world's most celebrated magazine of the British way of life, its countryside, properties and gardens. Its matchless authority, exquisite photography and world-class writing have ensured its position as one of the nation's truly great magazines.
Make sure you never miss an issue and get free delivery to your door by subscribing to Country Life Magazine today.
In Recent Issues of Country Life
Exclusive: the lofty plan for Westminster Abbey… Snipe loaf and potted pigeon – 1930s recipes reborn… Raymond Blanc's funghi garden… Where to get the best coffee in Britain… The Wars of the Roses: who would win in 2014?.. Hail the maestros: Rembrandt, William Morris and Vanbrugh… London glories: the world's art capital, Boris and sublime gardens… Catch the cocktail hour – the commuter belt expands… Discover your perfect weekend home. Order your Country Life subscription today for more wonderful articles like this every week.
Who Reads Country Life Magazine?
Country Life's readers have always sought the best things in life from food and antiques to the finest properties.