Cycling Weekly Magazine Subscription
Subscribe now and save up to 30%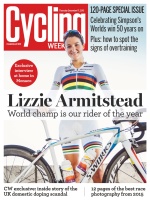 From £58.49 to £268.99
From 3 stores
Cycling Weekly Magazine
Cycling Weekly is the UK's biggest selling road cycling magazine. First published in 1891 it is regarded as the 'Bible' of British cycling. It is the best source of breaking news, race reportage, reliable fitness advice, trustworthy product reviews and inspirational features.
From beginners to seasoned cyclists, Cycling Weekly is the perfect magazine to satisfy all your cycling needs with tips, reviews, interviews and fantastic articles in every issue. Don't miss out, order your Cycling Weekly subscription today.
In Recent Issues of Cycling Weekly
Break your bad biking habits: easy fixes to try this weekend… Step up: from sportives to elite racers, how you can do it too… Wiggo plots Sky exit with new team… How to avoid weight gain when you train… Best ways to beat knee pain… The secret world of time trialling… Mekk T1: The track bike for all… Latest climbing craze: how to conquer the ultimate Strava challenge… New Forest backlash on hire bikes… Best buys for the off-season… Jens Voigt interview… Road bike buyer's guide. Order your Psychologies subscription today for more insightful articles like this every month.
Who Reads Cycling Weekly Magazine?
Road cyclists of all ages and abilities.