Trail Magazine Subscription
Subscribe now and save up to 37%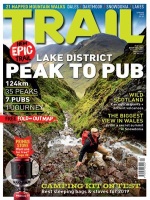 From £3.20 to £42.60
From 3 stores
Trail Magazine
An inspirational hillwalking and mountaineering magazine, Trail is one of the biggest selling outdoors magazines in the UK. Packed full of routes, advice and reviews, Trail Magazine has everything you need to get out there and it attracts a slightly more adventurous audience than closely related Country Walking Magazine.
Every issue of your Trail Magazine subscription will have you heading for the great outdoors, just as soon as you have finished memorised a challenging new route and learnt some new techniques to make your time outside more enjoyable. There are great gear reviews, detailed maps and much more, so don't delay, subscribe to Trail today!
In Recent Issues of Trail Magazine
Discover a new route – 8 great ways to climb classic hills… Rum Cuillin – have an epic island adventure… Walk the Alps… Explore the Ogwen Valley in Snowdonia… Pack a perfect summer daysack… Fix any kit disaster – five tails of when gear totally messed up, and how to prevent it happening to you… 8 ways to walk lighter… Tents for big adventures – five 4-person tents put to the test… Lairig Ghru – Cairngorms valley in 3D… Lakes base camp – wilderness and luxury without the expense. You'll read great stories and articles like this every month with your Trail Magazine Subscription. Order today!
Who Reads Trail Magazine?
Trail attracts the adventurous outdoors type who wants every walk to include a hill or mountain. Join then and make the most of your time outdoors by ordering a Trail Subscription today!