Olive Magazine Subscription
Subscribe now and save up to 78%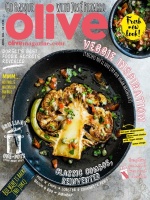 From £5.00 to £37.50
From 3 stores
Olive Magazine
A stylish, modern food lifestyle magazine, Olive Magazine features BBC chefs including John Torode, Sheila Dillon and Gordon Ramsay. Olive features stunning visuals, professional writing and a sense of humour that sets it apart from other food magazines.
The magazine is split into three fantastic sections:
Eating In – This features easy seasonal recipes.
Eating Out – Featuring restaurant recommendations and reviews from around the UK.
Eating Away – Food inspired travel and great recipes from around the world.
As well as providing you with a huge range of interesting menus from the simple to the elaborate, an Olive Magazine subscription will also keep you up to date with the latest restaurant openings and news, including honest reviews, food-inspired travel advice and much more.
Order your Olive subscription now to save on the cover price and get free delivery every month!
In Recent Issues of BBC Olive Magazine
Inspiring recipes to make Christmas easy – 5 fantastic Christmas menus, a spectacular veggie main and show-off desserts… Smart buys – Rock Stein, Giles Coren and Jamie Oliver reveal their Christmas lists… Olive Magazine reveals the 8 best festive food cities in the UK… 7 meals for £35 – making a week's worth of smart, great-value suppers… Ready in 30 minutes – fast, healthy, after-work recipes, all low fat or less than 500 calories… Top-class restaurants you can afford… Comfort cooling for friends.
Who Reads Olive Magazine?
Olive Magazine is aimed at adults aged 25-44. Almost three quarters of readers are women. Olive is recommended for people who like to eat out, entertain at home, try new restaurants, and experience new food when they travel.