Elle Decoration Magazine Subscription
Subscribe now and save up to 65%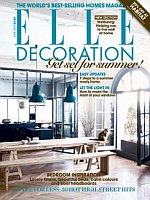 From £10.00 to £39.99
From 3 stores
Elle Decoration Magazine
With over 8 million readers worldwide, Elle Decoration is the world's highest selling luxury modern interiors magazine. Stylish and sophisticated, Elle Decoration Magazine offers expert interior advice, creative ideas and beautiful shoots from all over the world.
Each issue of Elle Decoration concentrates on a different room or topic and is filled with great new ideas and inspiration that you can use. You'll see how a few small changes can have a huge impact on your home. Order your Elle Decoration Subscription today to save £s and get free delivery to your door every month.
In Recent Issues of Elle Decoration Magazine
Bedroom inspiration – lovely linens, beautiful beds, calm colours and cool headboards… The new collectibles – how to display the things you love… 66 hot high street buys – get winter style for less… Where to buy art online… Bedroom special – all the inspiration you need, plus the 16 best new beds… Style spotting – fab interiors on film… Easy updates – simple decorating ideas and smart buys… Best baths for every budget, and big ideas for small spaces… The future of housing – why it's all about flat-pack. Keep up with great articles like this every month with an Elle Decoration subscription. Order today and save a huge amount off the regular newsagent price.
Who Reads Elle Decoration?
The magazine appeals to a design conscious, cosmopolitan audience of trend setters and opinion formers. Readers are predominantly female with an average age of 34, making Elle Decoration the youngest title in the market. Join them by subscribing today!