The World Of Interiors Magazine Subscription
Subscribe now and save up to 52%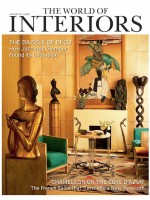 From £19.00 to £39.00
From 2 stores
The World Of Interiors Magazine
Featuring inspiration, innovation, the best photography and writing, The World Of Interiors Magazine is one of the foremost design and decoration titles in the world. Launched in November 1981, this inspiring and groundbreaking monthly magazine has won international acclaim.
The World Of Interiors brings together the broadest spectrum of homes, art features and product shoots, with editorial of the highest integrity, produced to the highest specifications. The magazine is as useful to new home owners as it is to high-flying art directors and design insiders. Order your World Of Interiors subscription today and get free delivery to your door.
In Recent Issues of The World Of Interiors
London Design Week special: The latest fabrics, furnishings and finds… Barrels of fun: How oil drums make the coolest cabin in Argentina… Greek island eyrie: Hitting the decoration highs on Hydra… Versailles on wheels: The train that thinks it's a palace… On the up and up: Bringing the shine back to a Norfolk lighthouse… The Bedfordshire town house where time stood still… The dazzle of deco: How jazz-age glamour found its champion… Chameleon on the Cote D'Azur: The French salon that turns into a New York loft… The Chelsea villa of Michael Inchbald that feels as though you're setting foot on to a film stage… Order your World Of Interiors subscription today for more beautiful articles like this every month.
Who Reads World Of Interiors Magazine?
A stylish and intelligent audience, many World of Interiors buyers are long term readers, with over 69% having done so for more than 5 years and 45% for at least 10 years.