Living etc Magazine Subscription
Subscribe now and save up to 42%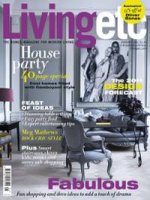 From £34.99 to £81.99
From 3 stores
Living etc Magazine
Do you love improving your home environment, whether embarking on a big project or simply enhancing small details of its decor? If so, a Livingetc subscription is the perfect choice for you. Livingetc is Britain's best selling modern homes magazine. It introduces the latest design trends and decorating ideas, and provides inspiration and practical advice for you to create a perfect signature home style.
Featuring great ideas and modern inspiration on every page, Living etc will give you the confidence to translate original ideas into design reality.
Subscribe today for huge savings on the regular magazine price and express delivery to your door every month. It really couldn't be easier!
In Recent Issues of Livingetc
Small space special – big ideas for little places… Key style directions, from painted kitchens to modern shutters… Go for bold – statement decorating with black and white… Create the perfect living room – from clever storage to mood lighting and cool media units… The new mood – rich colours, feel-me fabrics and sexy curves… Mini to maxi bathrooms – when size really does matter… Homes with soul – modern spaces full of inspiration… The ultimate guide to buying radiators… Wish you were here? Sunny, stylish spaces; new ways with stripes; cool kitchen gadgets… Clever summer projects that make a big impact… Sofas to suit your lifestyle… New deco looks – bold roses, tropical greens and Moroccan minimalism. This is just a small selection of the type of articles you can enjoy every month with your Living etc subscription.
Who Reads Living etc Magazine?
Affluent, design-savvy trendsetters typically between the ages of 25 and 65. Readers of Livingetc live a discerning, contemporary lifestyle, are passionate about modern design and love shopping.