Esquire Magazine Subscription
Subscribe now and save up to 22%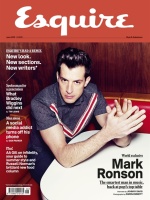 From £28.00 to £28.00
From 3 stores
Esquire Magazine
Every issue of Esquire Magazine features top celebrity interviews and features, and is packed with articles covering the world of sport, fashion, and entertainment. Stunning, stylish photography features throughout, making for an unmissable and engrossing experience.
A huge range of topics are covered in Esquire Magazine each month from features on music, movies, politics and the latest technology to important tips and advice on health, fashion and lifestyle choices. And don't forget, the magazine always features a plethora of beautiful women!
Esquire is the sharp read for men who mean business and its expert advice will help you to improve all aspects of your life. The first class writing and quality journalism will keep you reading until the end.
Don't miss out on this great offer – subscribe to Esquire today and save up to 76% on an annual subscription!
In Recent Issues of Esquire Magazine
Fitness extra – Daisy Lowe shares her workout secrets… Ask AA Gil – because a problem shared is a problem scorned… Champagne, cocaine and crisps – whatever happened to the new lad… Look sharp, buy smart – eight great suits for under £350; upgrade your tech for less than an iPad; swap your supercar for an estate… Kelly Brook – Britain's favourite pin-up pinned down… David Thomson on the death of cinema… Are you wearing Top Gear jeans – a stylish man's guide to denim… 50 things no man should be without this winter… The Moneyball effect – the book that shook football… Colin Farrell's second chance. For more top articles like this, subscribe to Esquire magazine today.