T3 Magazine Subscription
Subscribe now and save up to 36%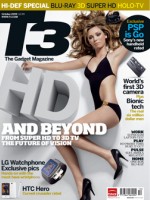 From £10.25 to £42.00
From 3 stores
T3 Magazine
T3 is the world's number 1 gadget and technology magazine, featuring everything from home cinema systems to games consoles and MP3 players. Every issue of T3 Magazine features the latest technology news, reviews of the newest gadgets and a multitude of previews and features. Quite simply it's the only magazine a gadget obsessed techoholic needs!
All of the best new gadgets are reviewed each month with head to head tests to ensure you spend your hard earned money wisely. The T3 Magazine comprehensive buyer's guide includes over 500 products that you'll want to own, if you don't already!
Order your T3 Magazine subscription today, and have get the perfect technology magazine through your letterbox every month before it hits the shops. Plus, save a huge amount on the cover price.
In Recent Issue of T3 Magazine
With a T3 Magazine subscription, you'll be getting amazing features such as these every month… The truth about Google's new phone – the Nexus One… The 8-page Android supertest – why now is the time to upgrade… The tablet PCs out to spoil Apple's party. Can they better the iPad?… Killer tech for 2010 – 3D TVs & camcorders, hybrid laptops and more… 16 hot new apps… The world's first 3D camera… Exclusive review of Sony's PSP Go… A hands-on with the new LG watchphone… The high definition special – from 3D TV to Super HD… Must have gadgets for every budget… Plus, much more with your T3 subscription every single month. Get yours today!