GQ Magazine Subscription
Subscribe now and save up to 38%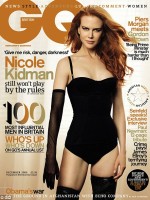 From £29.90 to £29.90
From 2 stores
GQ Magazine
GQ is the magazine for men with an IQ. Every month GQ Magazine provides its readers with bright, authentic content from the world of fashion, health, sport, politics, humour and music. GQ covers everything with intelligence and imagination.
Subscribe to GQ Magazine today and get free delivery to your door each month before anyone else, save up to 39% on the cover price and ensure you never miss a copy.
Recent Issues of GQ Magazine
Recent editions of GQ have featured Nicole Kidman on the cover discussing how she has emerged from two decades at the apex of the Hollywood A-List and remains one of cinema's most alluring and enigmatic stars. The Oscar-winning actress speaks candidly about Stanley Kubrick, risky film roles and "extreme love"!
Recent issues have also listed the 100 most influential men in Britain, plus… 21 ways to celebrate your life… On the ground in Afghanistan with Echo Company, following Obama's war… An exclusive interview with Jerry Seinfeld… A 12 page tribute to Paul Newman… And much more.
Order your GQ Subscription today with a huge discount on the newsagent price and never miss an issue again.