Good Housekeeping Magazine Subscription
Subscribe now and save up to 65%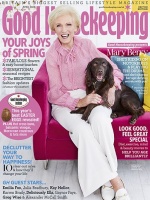 From £9.99 to £36.99
From 3 stores
Good Housekeeping Magazine
Enjoyed and trusted for over 80 years, Good Housekeeping Magazine is the first choice for hundreds of thousands of women and covers a huge range of subjects from fashion to cooking, relationships, beauty, homes and much more. You can rely on Good Housekeeping Magazine to supply an unrivalled amount of quality information, advice and entertainment for the 'grown-up' woman.
With a circulation of over 400,000 it remains one of the most popular women's magazines in the UK. Each month brings great features including most recently, how to live well on less, haircuts that will take 10 years of you and the easiest chocolate cake recipes ever. Plus, win something fantastic in one of the regular competitions.
Perfect as a gift subscription or treat yourself. Every subscriber becomes a member of the subscriber club, giving access to a huge range of benefits including exclusive discounts. Don't miss out – subscribe today and enjoy a great free gift along with huge savings off the newsagent price!
In Recent Issues of Good Housekeeping Magazine
228 fantastic gifts from under £5… Katherine Jenkins on the wedding, being curvy and a secret heartache… Do-it-now strategies for a more confident you… Best ever celebrity recipes – all Good Housekeeping tested… 100 little black dresses for every shape… The healthiest ways to eat out and restaurants to avoid… Family comes first – Heidi Klum on finding her soulmate and raising four kids with family values… Easy and healthy suppers your family will love… Slim by summer – make over your fridge, plus 11 quick and light meals… The best anti-aging skincare for day and night… Want a new look? Easy head to toe fixes… You can afford a vacation – 9 insider secrets from a travel pro… Be a calmer mum and get results without yelling… For a fantastic range of great articles like this every month, order your Good Housekeeping subscription today!